GELPELL – nutrients well-packaged all round
Full service contract manufacturer in Swiss quality
Fast, flexible, customised:
Capsules from GELPELL
As a full-service company and contract manufacturer for nutritional supplements, we support you from consultation through development, formulation and production to packaging and delivery. Our range includes high-quality soft capsules, the unique GELPELL® beads, twist-offs and hard capsules.
You're looking for a partner who can produce, package and deliver your nutrient product quickly? Then you can rely on GELPELL. For 15 years, our name has stood for Swiss quality in hard and soft capsules for food supplements.
As a contract manufacturer, we rely on state-of-the-art technologies and valuable raw materials. For our customers, we're a flexible partner that offers personal service and special expertise for complex products from small batch sizes onwards.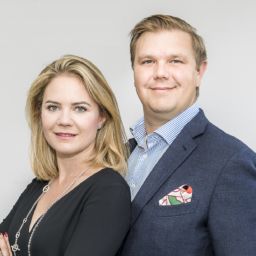 "Food supplements are a matter of trust. As an owner-operated company, we work closely with our partners and with our name guarantee premium quality."
Tomas & Kristina Edvinsson
company owners
GOOD REASONS FOR GELPELL
Customer focus
Short delivery times
Expertise for complex products
Development, production and packaging under one roof
Reliable partner for both large and small quantities
Production using state-of-the-art technologies in Switzerland
Premium quality according to EU standards, Ph. Eur., GMP and ISO 22000
Clean Labelling possible
Owner-operated company
Certified manufacturer and packager of food supplements, medical products and pharmaceuticals
Organic
Halal
FDA-registered for food supplements
InsightsCare Magazine lists us as "Most Trusted Nutritional Supplements Providers 2022" and features Gelpell in an interview with our owners Kristina and Tomas Edvinsson.
Read on to learn how we have turned…
Vegetable and vegan nutrition is a fast growing worldwide trend and becomes more and more important in all aspects of a healthy lifestyle. Almost all different customer groups are paying growing attention to the impact of their consumption behaviour and are consciously buying sustainably.
Plant-based capsules are a perfect match for your healthy, oily ingredients, creating a coherent…
2005
Gelpell was founded, Technology in development phase
2007
First commercial productions
2011
Start of blister packaging as contract manufacturer
2012
General Manager Tomas Edvinsson joins Gelpell
2013
Start of production for softgel capsules
2015
Kristina and Tomas Edvinsson take over Gelpell AG
2015
Start of hard capsule production
2017
Large expansion of production facility
2017
Purchase of second soft capsule machine and bottle filling machine
2020
Capacity expansion with purchase of new hard capsule machine