"Everyone talks to everyone"
 Gelpell COO Thomas Jager on the topic of team spirit and transparency in production
At Gelpell, around 40 employees work in two or three shifts. COO Thomas Jager reports on the challenges of company growth and the advantages of the new ERP system.
Mr. Jager, you are COO and Deputy Managing Director at Gelpell. This role means that you manage the purchasing, logistics, research & development, work preparation, production, technology and IT at the firm. That sounds like a great deal of responsibility.
Yes, you're right. But, I don't bear all the responsibility alone. When I started out at Gelpell over two years ago, it was paramount for me to form a team from the 40 or so employees that communicates intensely, adheres to the Gelpell spirit and acts on its own responsibility. In 2017, Gelpell still only had seven employees; this figure has grown six-fold within the last four years – and yet the teamwork is more effective than ever. We have built up a very powerful team across departmental boundaries, where everyone can talk openly with one another, even away from the weekly team meetings. The focus of our actions is clearly on the customer.
What appeals to you personally and professionally about Gelpell?
(laughs) Where do you want me to start? Gelpell is a family-run business which can look back on four generations of setting standards in the area of dietary supplements. We can build on a great deal of knowledge and established contacts. What is more, despite the growth that has taken place in recent years, the atmosphere at work is a familiar one. The hierarchies are flat and official channels are short.
This is one of the success factors that enables us to carry on achieving solid growth in a difficult and unstable market situation. Thanks to our flexibility, we can implement changes more quickly and easily than the competition and optimise processes for our customers.
For us, flexibility also means planning ahead, observing current market trends, investing in the latest technology and developing new and exciting (and also complex) products. Our high aspirations in terms of flexibility, agility and quality standards allow us to convince our customers.
Personally, what drives me about Gelpell is that you can grow with the new requirements and consequently optimise the company in a measurable way.
A year and a half ago, Gelpell introduced an ERP system. What's changed as a result?
Our Enterprise Resource Planning system has optimised production processes to our complete satisfaction in terms of transparency, accuracy, visibility and quality control.
Since we rely on a digital manufacturing strategy, we have been able to almost completely digitise the earlier process documentation (>150 pages per order).
Integration of the departments means that we were also able to optimise our supply chain and by doing so work more proactively. The error risk has also been reduced many times over.
What challenges are you currently facing?
 Since the factors mentioned above also apply to several of our customers, we have to compensate for market shortfalls and plan ahead.
One problem that will affect us in the future is an additional shortage of raw materials from Ukraine including sunflower lecithin.
Like many other companies, we are also affected by the shortage of personnel. We are constantly on the lookout for good and professional staff who want to join us in embracing the Gelpell spirit. The good news, however, is that our employees usually remain with us for a very long time, which certainly speaks for Gelpell as an employer.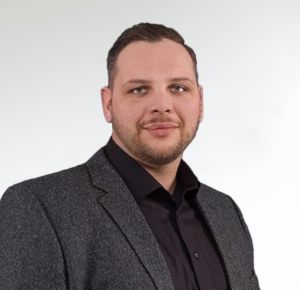 About Thomas Jager: Thomas Jager (38 years old) originally comes from Mecklenburg-West Pomerania in Germany and has been living in Switzerland for over 17 years. After training to become an agricultural engineer, he worked in food technology for more than eight years and in the pharmaceutical industry for more than five years. After a two-year stint in the ultra-fresh industry, he joined Gelpell AG two and a half years ago and is now Deputy Managing Director. Thomas first qualified as a pharmaceutical engineer and as a Six Sigma lean manager parallel to his work, then successfully completed a bachelor's degree in business administration. He is currently on track to acquiring a bachelor's degree in sales and marketing.